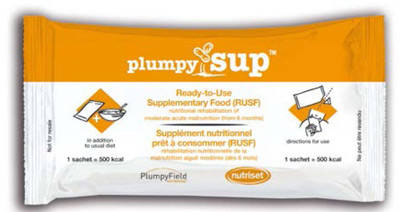 Plumpy'Sup™ is a ready-to-use food supplement (RUSF) also defined as a Lipid-based Nutrient Supplement (LNS Large Quantity). This product is developed for the treatment of moderate acute malnutrition in children more than 6 months old. Plumpy SUP® can also be used to prevent severe acute malnutrition, particularly with children just finishing therapeutic feeding programs.
Ready to Use Supplementary Food (RUSF)

Product conforms to LNS Large Quantity

For Children after 6 months of age

To treat Moderate Acute Malnutrition (MAM)

100 gm. individual sachet

Best before 24 months of packing
Children from 6 months of age and above who fall under the cut-off for moderate acute malnutrition need to receive an adapted diet that allows them to regain a normal nutritional status.
The invention of Plumpy'Sup™ made home treatment/ambulatory or outpatient care possible for moderate malnourished children with an appetite and without medical complications. Even thought Plumpy'Sup™ can be used at home under the supervision of the mother or another member of the family, the vulnerable condition of severely malnourished children requires a health practitioner's prescription and regular medical check-ups.   Plumpy SUP  can be used in the home, which makes the product particularly well adapted to emergency situations or malnutrition prevention feeding programmes